The Prescott Home
Location- Government Camp, Oregon 3,300 feet elevation on Mount Hood.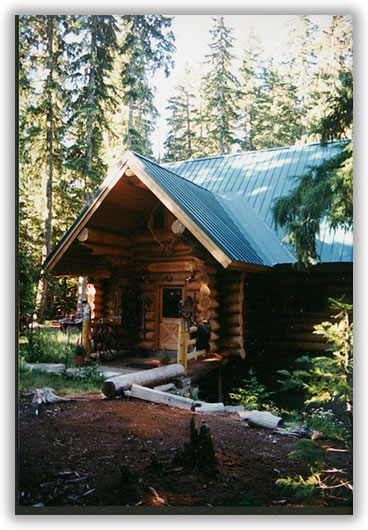 Square footage -
Total - 3,320 square feet
Main - 1,440 square feet
Second - 632 square feet
Basement - 1,248 square feet
Description - This house is basically a 26' x 48' rectangle on the main floor with an 8' x 10' airlock entry on the north side and a 14'x8' nook on the west end of the great room. The main floor houses the airlock entry, entry foyer, stairway, master bedroom, kitchen great room and nook. There is a large, two level deck off the south side of the great room. The basement is 26'x 48' and contains a bath/mechanical room, bunk room, storage and a large gamily room with a hot tub under the nook on the main floor above. There is also wood storage under the airlock entry. The second floor houses the loft, bath, guest bedroom and several small sleeping and reading loft areas.
This house is really people's choice. It is a very open and livable house with a lot of area for both open, public activities and cozy, quiet times. This was one of the most fun houses that I have built to date. The owner and I have become very close friends over the years. The house was built on a cost plus basis and done simply on a handshake. This house exudes warmth and spirit.
Key features -
1. Large log trusses support the roof and allow for a lot of open area on the main floor.
2. Pine ceiling paneling
3. Western Redcedar and redwood paneling throughout the house.
4. Main floor are Red Oak planking
5. Western Redcedar trim, doors and windows.