The Wapinitia House
Location- Government Camp, Oregon - at 3,300' elevation Mount Hood.
Square footage - Total - 3,700 square feet
Main - 2,160 square feet
Second - 1,540 square feet

Description - The house is designed using three rectangles. The central core is 24' x40' a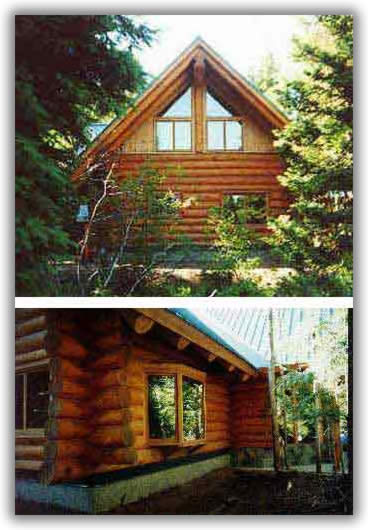 nd contains the main entry, kitchen, stairway, dining room and living room. The loft is above the kitchen, entry and dining area and has a wet bar. The north wing is 24' wide x 28' long and has a garage, guest bedroom and bath on the ground level. the second floor has two bedrooms, a bath and a study above. The south wing makes up the master suite. The main floor of this wing is devoted to the master bath. In one half there is a walk-in closet and a large Jacuzzi with a gas fired stove in the corner of the room. In the other half of the bathing area there is a private toilet, bidet, sink area that opens to a shower area with its own lavatory. Above the master bath are is the master bedroom.

Key features -This home features absolutely the best of everything in the way of materials and furnishings including:
1. Tiffany light fixtures
2. Dorf gold plated plumbing fixtures
3. All counter tops either granite or slate.
4. Roof structure using log trusses and log rafters.
5. Solid Western Redcedar windows and doors.
6. Solid Hickory cabinets in the kitchen.
7. Red Oak plank floors in the entry, kitchen, dining and living room.
8. American cherry floors with floral and Black Walnut inlays in the master bedroom
9. Tile floors in all bathrooms and laundry.
10. A solid stone fireplace with heat cycling ductwork built from rock mined at a local quarry.
11. Back up generator system that keeps the house heated and lighted in case of a power failure.
12. An alarm system that monitors all functions of the house and is controlled remotely by phone.
13. Many more features too numerous to mention.