The Beaver Lake Home
Location- A very secluded site near Oregon City, Oregon..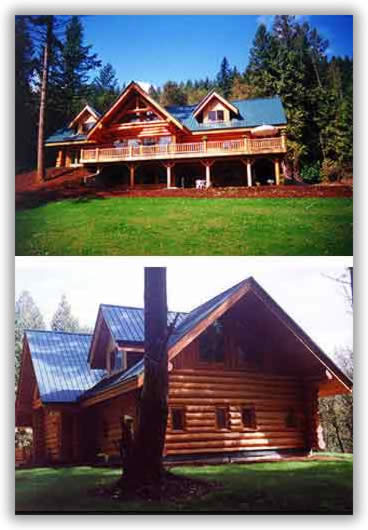 Square footage -
Total - 6,240 square feet
Main - 2,352 square feet
Second - 1,536 square feet
Basement - 2,352 square feet
Decks - 950 square feet
Carport - 840 square feet

Description - This house Is a well thought out home that provides well for a large family. It was designed with an office for the husband who works out of the home and plenty of room for home schooling their children. The home is made up of a central rectangle and two wings. The layout is the same for the basement, main and second floors. The central section of the main floor is for the main entry, stairway, and great room. The east wing contains the kitchen, pantry, dining room, bath, mudroom and laundry. The west wing of the main floor is the master suite and infants room. The second floor has a loft that overlooks the great room in the central section with two bedrooms and bath over the master suite and a bedroom and office over the kitchen wing. There is an 8'x 28' covered porch off the office that looks out into the woods. The basement holds the family room, bath, guest bedroom, garage, work and storage room and the mechanical room. There is also an expansive deck and porch on the south, east and north sides of the main floor. The carport is a log post and beam structure with log truss roof structure. .
Key features -There is no way to list all of the distinct features of this home. It uses the best of all materials in the design and execution of the house. Here are just a few of the thing that you will find here.
1. Solid Western Red cedar windows, doors, siding and trim.
2. Sheetrock ceilings for maximum light.
3. Expansive windows in the entire house especially to the south.
4. Radiant floor heating with multi-fuel furnace.
5. Log truss and ridgepole roof system.
6. Log timber frame carport.
7. Large log deck surrounding half the house with log support structure.
8. Mortise and tenoned log railings.
9. Dramatic log stairway to the second floor.
10. The entire house is wired with the x-10 wiring system for computer and remote control of the lighting.
11. Integrated alarm and remote control system.
12. Large pantry with office area.
13. Rock Maple cabinetry in the kitchen with restaurant grade appliances.
14. Solid Douglas-fir flooring on the entire main floor, cut from the timber on the homesite.
15. All cedar used in the house was cut onsite as was most of the framing material.
16. All finishes used in the house are German citrus oil based products that are non-toxic.
17. More, much more!