The Metolius Home
Location- A very secluded site near Oregon City, Oregon..
Square footage -
Total - 6,240 square feet
Main - 2,352 square feet
Second - 1,536 square feet
Basement - 2,352 square feet
Decks - 950 square feet
Carport - 840 square feet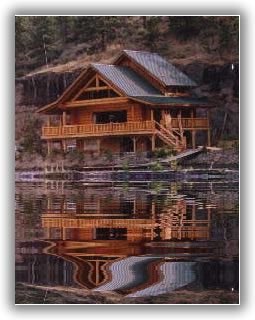 Description - This house is a recreational home built on an extremely beautiful and difficult site. We had a ledge just above the waterline of Lake Billy Chinook that was 50' wide with a rock bluff behind. It forced us to build wide and tall. By using lowered decks and shallow porch roofs, we were able to design and build a home that takes advantage of the view and the lay of the property. There is a full basement with three garage doors that allows the owners to drive through the house to get to the other side of the property and a door that leads directly to the lake so that the boats can be launched from the home. The main floor has a very open feeling with the living room and dining room toward the lake and a kitchen behind. There is also a laundry/storage room and bath behind the kitchen and the master bedroom in the real corner of the first floor. Large covered porches surround the house on three sides and provide protection from the hot eastern Oregon sun. The second floor has two bedrooms, and a bath.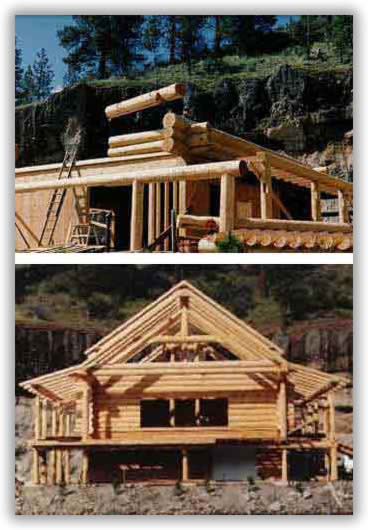 There is a catwalk that leads from this area to the glass window wall in the lakeside gable end.
---
Key features -
1. Log truss and rafter roof system with unique roof line that blends into the rock bluff.
2. Expansive porches
3. Fishing right off the front porch.
4. Maximum use and value of a very difficult site.
5. Western Redcedar doors, windows, paneling and siding throughout the house.